TOOL-SUSPENSION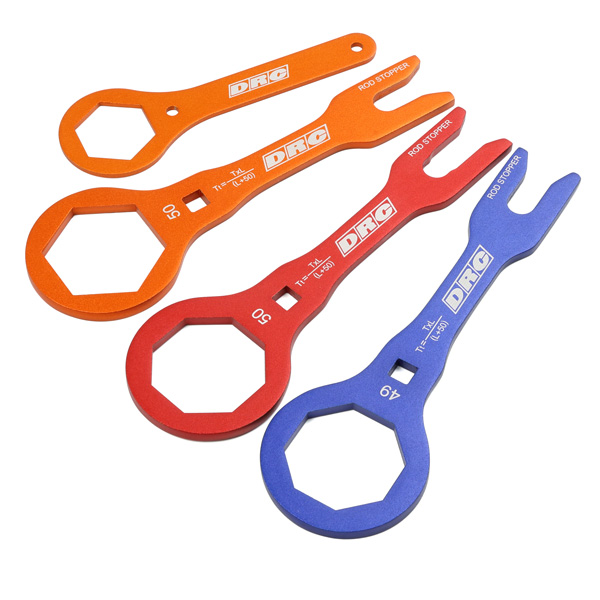 Pro Fork Top Cap Wrench
SPECIFICATIONS:
- Aluminum front fork top cap wrench.
- Allows to disassemble and assemble in one cycle job with a wrench and rod stopper combined tool.
- The closed design wrench grabs the top cap tightly.
- Available for Φ14mm rod (D59-37-171)
- Provides a hole to attach a torque wrench for maintaining accurate setting.
- D59-37-173 for WP conevalve is useful to adjust the spring initial adjuster.
- Available for SHOWA, KYB, WP and WP kit suspension.
* The front fork must be removed from the bike when servicing.
Image
Bike
Year
Front Frok
Part number
 
CRF450R
09-14
KYB(49mm)
D59-37-170
YZ125/250
06-23
YZ250F
06-23
YZ450F
06-23
YZ125X
17-23
YZ250X
16-23
YZ250FX
15-23
YZ450FX
16-23
WR250F
15-23
WR450F
13-23
KX250
20-23
KX250X
21-23
KX450F
06-14
RMZ250
16-22
EC250
18-20
EC300
18-20
XC250
18-20
XC300
18-20
ENDURO GP250
18-20
ENDURO GP300
18-20
125SC FACTORY
19-20
250SC FACTORY
19-20
300SC FACTORY
19-20
250SCF FACTORY
19-20
300SCF FACTORY
19-20
450SCF FACTORY
19-20
500SCF FACTORY
19-20
250SE FACTORY
19-22
300SE FACTORY
19-22
250SEF FACTORY
19-22
300SEF FACTORY
19-22
450SEF FACTORY
19-22
500SEF FACTORY
19-20
 
CRF250R
04-23
SHOWA(50mm)
D59-37-171
CRF450R
04-08
17-23
CRF250RX
19-23
CRF450RX
17-22
CRF250X
06-17
CRF450X
05-22
CRF450L
19-20
CRF450RL
21-22
KX250F
06-18
KX250
19
KX450F
15-18
KX450
19-23
KX450X
21-23
RM125
06-08
RM250
07-08
RMZ250
07-15
RMZ450
05-22
RMX450Z
10-17
DRZ400SM
05-17
 
125SX
07-23
WP(50mm)
D59-37-172
150SX
09-22
250SX
07-23
250SX-F
07-23
350SX-F
11-23
450SX-F
07-23
150/250/300EXC
17-23
250-500EXC-F
17-23
125/250/300XC
17-23
250-450XC-F
17-23
125-300XC-W
17-23
FC250-450
17-23
TC125/250
17-22
FE250-501
17-23
TE150-300
17-22
FX350/450
17-23
TX125/300
17-23
MC125
21-23
MC250
22-23
MC250F
21-23
MC350F
22-23
MC450F
21-23
EX250
22-23
EX250F
21-23
EX300
21-23
EX350F
21-23
EX450F
21-23
EC250
21-23
EC300
21-23
EC250F
21-23
EC350F
21-23
WP MXMA4800 Conevalve
WP(35mm)
D59-37-173