TRANSPORT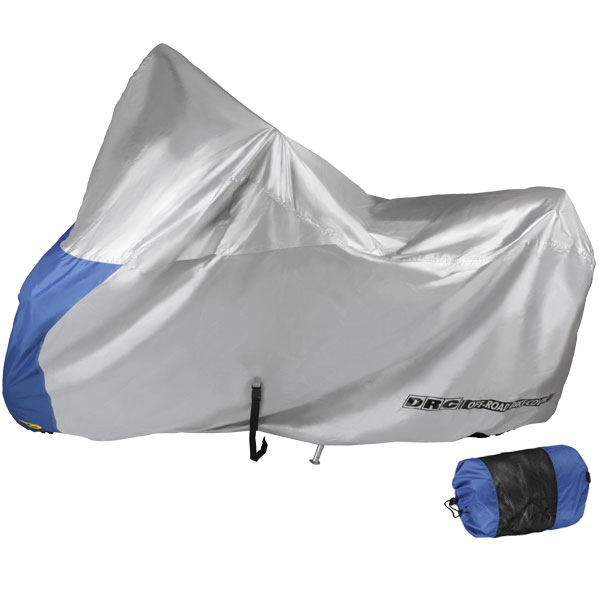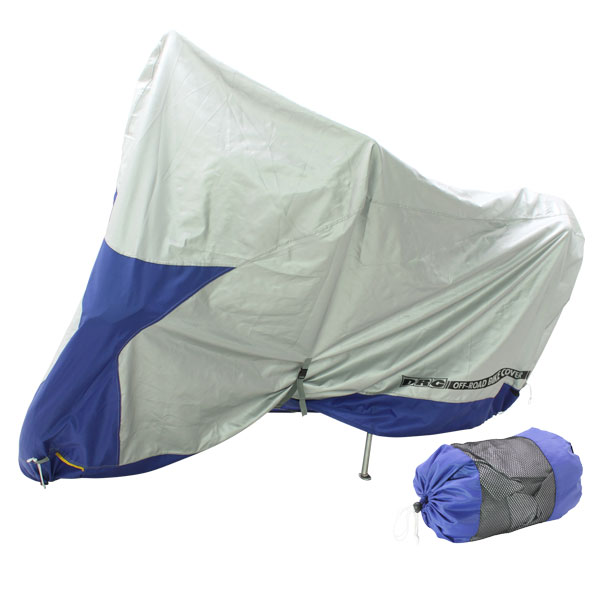 OFF ROAD MOTORCYCLE COVER
SPECIFICATIONS:
- Off-road cover, all-weather type.
- Oxford fabric with excellent strength and durability.
- Front side colored in blue to easily find cover direction.
- Slit openings in front and back for security lock.
- Set the belt in the center to prevent rattling by wind.
- Comes with a storage bag (Convenient belt to hook at the bottom).
Size
Part #
Size
Medium
Size
D57-01-101
Length:225cm(88.58 inch),
Height:160cm(62.99 inch)
Dual Sport
Size
D57-01-112
Length:250cm(98.43 inch),
Height:175cm(68.9 inch)
FUNCTION: Medium Size
FUNCTION: Dual Sport Size
Fitting Applications
SIZE
HONDA
YAMAHA
SUZUKI
KAWASAKI

M


Length: 225cm

Height:160cm
CRM50/80
XR50/100 Motard
XR230/Motard
FTR223/TLM220R
SL230
XL230 Degree
AX-1
DT50
XTZ125E
TT-R125LW/LWE
TW200/E
TW225/E
SEROW225/W/WE
XT250X
TRICKER・BRONCO
TS50R
GRASSTRACKER
GRASSTRACKER BIGBOY
D-TRACKER125
SUPER SHERPA
KLX125/150S

L


Length: 250cm

Height:175cm
CRM250/R/AR
XR250/400Motard
XR250/R/Baja
XR400R/600R/650R
XLR125R/200R
XLR250/R/Baja
CRF250L/M
CRF250RALLY
DT125R/200R
DT200WR
DT230 Lanza
TTR250R/Raid
WR250R/X
Serow250
XT400E Artesia
Djebel125/200/250
Djebel250XC
DR250/S/R
DR350
DRZ400/S/SM/R
RMX250S/R
DF125E/200E
TS125R/200R
SX125R/200R
Van Van200
250SB
V-strom250
KDX125SR/200SR
KDX220SR
KDX250SR
KLX250/S/R/SR/ES/SF
KLX300R/450R
D-Tracker/X
KLE250/400
250TR
VERSYS-X 250
KLX150BF
SIZE
KTM
HUSQVARNA
GASGAS
OTHER

M


Length: 225cm

Height:160cm
Pampera125

L


Length: 250cm

Height:175cm
125EXC/
200EXC
250EXC/-R/-F
300EXC
400LC-4
400EXC/-R
450EXC/-R
525EXC-R
530EXC/-R
690 Enduro/
SMC
TE250/310
TE450/630
WR125/250/360
SM125/250R
SM400R/450R
SM450RR/510R
SM570/610
SMS630
Halley125R
EC125/250
EC450
HUSABERG TE250
HUSABERG FE390/450
HUSABERG FE570
HUSABERG FS570
tm EN250